Expressions – 10 day Artisan Show & Sale
Come visit the DWAC's Studio for unique crafted, holiday gifts during Expressions, our annual pre-holiday gift show and sale taking place from December 5 – 14th. A wide range of items will be available, many made right on site on in the Pickering based pottery/arts studio.
Join us on Friday, December 5th from 7:00 – 9:00 pm for an opening reception and to view the diverse range of works, including photography, painting, pottery, woodturning, sculpture, illustration, jewelry, and more.
Show Hours: Daily 10:00 a.m. – 9:00 p.m.
Weekends: 10:00 a.m. – 6:00 p.m.
---
---
Call for Submissions – 2015
Durham West Arts Centre Studio Tour
The Durham West Arts Centre is currently taking applications from local artists in all media for its Annual Spring Studio Tour.
DEADLINE Sunday, November 16, 2014
The dates and times for the 2015 Tour are: April 25 & 26, 10:00 am – 5:00 pm. DOWNLOAD APPLICATION FORM | MORE INFO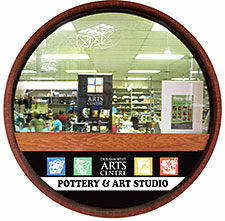 Pickering Recreation Centre
1867 Valley Farm Road,
Pickering, Ontario L1V 1Y7
mapquest
Telephone: 905.420.2667
Mail: P.O. Box 667,
Pickering, ON L1V 3T3
Classes
At the Centre
Durham West Arts Centre is proud to announce our new location and move to the Pickering Potters Studio in the downtown Recreation Complex. This exciting new venture allows DWAC the opportunity to teach, interact and engage the public through dynamic programming. In addition to continuing with the well-established pottery programs, we plan to offer a diverse range of visual arts programming from the studio location.
It will also be the home and office of DWAC, providing us with a central hub from which to continue to build and promote the idea of creating a permanent home for the arts centre here in Pickering.
---
Who or What is DWAC?
The Durham West Arts Centre is a 'hub' organization working to establish links with artists, arts groups and arts lovers. We want to meet and talk to the groups and individuals who are willing to help build the infrastructure for a permanent arts centre in Pickering.
Who or What is DWAC Foundation?
Our mandate is to organize, plan, design, fund, contract for, and build a performing and visual arts centre in the western part of the Durham Region, for the benefit of the citizens and arts community in the Durham Region.
The Vision
The arts centre is envisioned to include performing, media, visual arts and multi-purpose spaces serving local and regional audiences and artists, and featuring local, regional, national and international talents.
---