Tom Thomson Events

DWAC was proud to be a supporter of the Tom Thomson inspired event Party in the Park With Tom Thomson celebrating his life and art in Claremont on Saturday, October 14, 2017. Thanks to Judith Jewer for judging the Best Sketch. Karan wins a Tom Thomson Framed Print "Tea Lake Dam" and Ashley, Julie, Xavier and Ayva will receive a DeSerres Gift Certificate from DWAC.
| | | |
| --- | --- | --- |
| Karan | Ashley | Julie |
| Xavier | Ayva | |
"Best in Floral Arrangement" Judged by Artist Gwen Williams and Tricia will receive a Tom Thomson Framed Print "Woodland Waterfall" and Julie and Rebekah will receive a DeSerres Gift Certificate from DWAC.
For more photos from this great event please check out PineRidge Arts Council's group facebook page | more great floral arrangements HERE | City of Pickering | snapd Pickering

---
see you next year

Download PDF
REGISTER TODAY!
905-420-2667

NEW

Adult Beginner
Wheel Class starting on JANUARY 11, 2018
10 weeks and $220.00

---

DWAC Foundation Welcomes Pickering City Centre Project
Foundation to work in partnership with the City on development of an arts centre

PICKERING, ONTARIO (February 28, 2017) Business and arts community leaders with the Durham West Arts Centre (DWAC) Foundation are pleased with the commitment of City Council to the Pickering City Centre Project, which includes a performing and visual arts centre. for more, click HERE

---

$200 Gift Certificate draw

Congratulations to Madison Brown, winner of the $200 Gift Certificate in the 2017 Durham West Studio Tour. Ticket drawn by Bonnie Jackson, DWAC Member, with assistance from Heather Davis, Studio Tour Chair at the Artists' follow up Luncheon.

---

DWAC tent at Artfest

Youth artiists painting visions of Pickering's future arts centre onto canvas
---

The Juried Photography Exhibition is now closed.
For more information please go to http://pineridgearts.org/jpe.html

DURHAM WEST ART CENTRE AWARD
Gary Faulkner received the Durham West Arts Centre Award from Bob Jackson, Vice Chair, Durham West Arts Centre at the 17th Annual PineRidge Arts Council's Opening Reception at the McLean Community Centre in Ajax. Show continues until November 26, 2016.
The Durham West Arts Centre recognizes the Artists of Durham Region with an Award and are pleased it was presented to Gary for his oil painting Young Lady.
For more information on the Juried Art Show, please check out the PRAC website.
---

I would like to take this opportunity to invite you (or your designate) to participate in an important meeting to plan for the operation of the Arts Centre. As part of their work, Webb Management Services is working to develop a business plan for the facility, which means addressing how it should be programmed, operated, and financially sustained. Given that you have been identified as a potential user of new arts spaces, the consultants would like to involve you and your organization in the effort.
The meeting will take place at the on Monday, October 24, 2016 from 7-9 pm at the Pickering Recreation Complex Arena – O'Brien Meeting Rooms (located at the back of the Complex at 1867 Valley Farm Rd.). The Consultant will be developing operating policy and practices in such areas as scheduling, ticketing, food & beverage service, and backstage operations. They will also be considering ways that a new arts centre might be operated, talking about important issues like rent, and bringing you up to date on other elements of the project.
This will not be your only chance to participate in the planning process, but it will be a very informative and important event. If you or someone from your organization can attend the meeting, please RSVP with Leigh Brazeau at lbrazeau@pickering.ca or 905.420.4660 ext. 2177 by October 20th. If you can, please prepare by thinking about how often you might use the new facilities and what types of operating arrangements would suit your needs.
Thanks for your consideration.
Marisa Carpino, M.A.
Director | Culture & Recreation Department
905.420.4660 ext. 2025 | 1.866.683.2760 | mcarpino@pickering.ca
---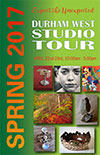 ---
It is time again for the Durham West Art Centre's annual Spring Studio Tour. 2016 marks the 8th year that Durham artists will open their studios to the public highlighting the wealth of creative talent within our region. Taking place on Saturday, April 23 and Sunday, April 24, from 10:00 AM to 5:00 PM, this successful event returns with a line-up of 24 artists showcasing a diverse range of creative works. This free, self-guided tour allows visitors to speak to emerging to senior artists working in a variety of media, including photography, stained glass, pottery, painting, sculpture and jewelry. Not only do visitors get the unique opportunity to engage with working artists and invited guests in their studio spaces to discuss techniques and processes, many of the artists will have their presented works available for purchase, adding to the idea of the event as a virtual treasure hunt. There is a wealth of creativity and talent waiting to be discovered in Durham truly representing our claim to "Expect the Unexpected!"
---
Great News!
Feasibility study to be included in 2016 budget deliberations
MEDIA PDF
Dream of Durham West Arts Centre in Pickering closer to becoming a reality
---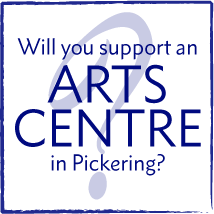 In January Pickering will hold a by-election for Ward 1 City Councillor. PRAC, DWAC and DWAC Foundation posed this question to the candidates.
As a City Councillor for Ward 1 candidate and if elected, PineRidge Arts Council, and Durham West Arts Centre and Foundation are wondering if you/will you support an arts centre in Pickering?
Responses to be posted on line. Click HERE
---
Who or What is DWAC?
The Durham West Arts Centre is a 'hub' organization working to establish links with artists, arts groups and arts lovers. We want to meet and talk to the groups and individuals who are willing to help build the infrastructure for a permanent arts centre in Pickering.
Who or What is DWAC Foundation?
Our mandate is to organize, plan, design, fund, contract for, and build a performing and visual arts centre in the western part of the Durham Region, for the benefit of the citizens and arts community in the Durham Region.
The Vision
The arts centre is envisioned to include performing, media, visual arts and multi-purpose spaces serving local and regional audiences and artists, and featuring local, regional, national and international talents.
---
Come Celebrate Your Birthday Party with Creative Clay Play!
Sculpt a hand-built treasure for your Birthday chosen from a selection of varied projects from display models at the Studio.
Schedule: 2 hours – 1 ½ workshop (raw materials, use of Studio tools included) & ½ hour of glaze decoration.
Ages: 6+. Minimum of 8 participants to maximum of 12.
Over 12 participants will require an additional instructor at a cost of $25.00. Upon registration a non-refundable deposit of $30.00 will guarantee the booking.
You may choose to use the Studio's glaze room for continuing your celebration (food, cake, etc.) for an added cost of $10.00 per half hour. Please bring all party supplies with you including a tablecloth.
We recommend guests arrive 15 minutes early to enable the party to start on time and guests should be picked up 15 minutes before end of scheduled time to avoid an additional charge for room usage.
The clay projects will be fired within 1 ½ to 2 weeks and you will be contacted to arrange a convenient date for pick-up of finished works.
DOWNLOAD PDF APPLICATION
---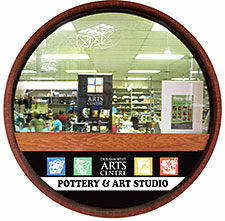 Pickering Recreation Centre
1867 Valley Farm Road,
Pickering, Ontario L1V 1Y7
mapquest
Pickering Potters' Studio Office Hours – 10:00 am to 4:00 pm
Telephone: 905.420.2667
Mail: P.O. Box 667,
Pickering, ON L1V 3T3
Classes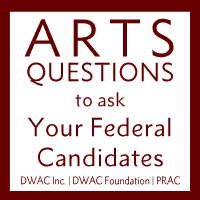 Responses posted, click HERE.
Art as a Core Value?
Responses HERE
---
At the Centre
Durham West Arts Centre is proud to announce our new location and move to the Pickering Potters Studio in the downtown Recreation Complex. This exciting new venture allows DWAC the opportunity to teach, interact and engage the public through dynamic programming. In addition to continuing with the well-established pottery programs, we plan to offer a diverse range of visual arts programming from the studio location.
It will also be the home and office of DWAC, providing us with a central hub from which to continue to build and promote the idea of creating a permanent home for the arts centre here in Pickering.