REGISTER NOW FOR FALL CLASSES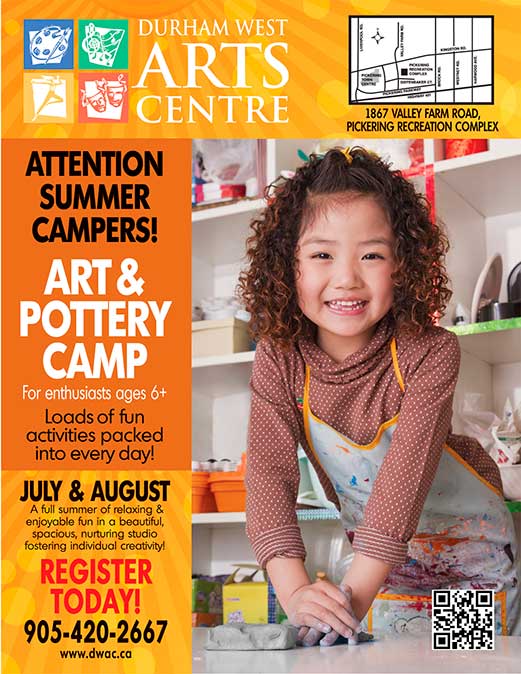 ---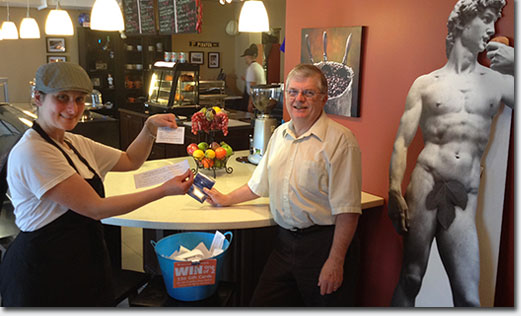 On May 26th, one month to the day that the Durham West Arts Centre Spring Studio started, a draw was held for 2 - $50.00 gift certificates for the Pickering Town Centre (donated by PTC). The place was at Canada's First Riceball Shop - Mr. Arancini's Italian Riceball Shop which has just opened at the corner of Mackenzie and Bayly in Ajax. Owner Tonia Sultana drew the winning ballots that were entered during the successful Studio Tour. Durham West Arts Centre's David Green was present helping to account for all the entries. The lucky winners were John Lenard and Sarah Colwell.
"This year's edition of the Durham West Spring Studio Tour was another success with 14 locations showing the work of 29 artists. To see what the tour looked like this year ~ enjoy the following video:"
---
Register now! Summer Art & Pottery Camp
DWAC is currently taking registration for this year's Summer Art & Pottery Camp. This all day camp stimulates the imagination and develops pottery and arts skills for children ages 6+. Running for eight weeks starting from July 7th until August 29th, the experience of learning and exploring the art of clay through creative discovery, with fun-filled activities and inspiring hands-on learning is a rewarding opportunity for all youth. Each day campers will create and decorate a hand-built treasure using a variety of hand-building techniques. They will also participate in daily outdoor activities (weather permitting), an afternoon of water play on Wednesdays at the recreation complex, group games and assorted arts and crafts. Friday is theme day with pizza lunch, afternoon matinee and snacks provided. Camp pricing includes all clay, glazes, kiln firings and use of studio tools as well as swimming costs, theme day lunch lunch and treats.
Hours of Operation: Camp runs daily from 9:00 am to 4:00 pm, Mondays to Fridays.
Fees Weekly: $205.00 per camper.
Camp fees Daily: $50.00 per camper.
Camp Fees (½ days): $30.00 per camper.
Please note: Week #5 (August 5- 8th) is a short week and the fee is $165.00 per camper.
Extended Care Hours are available from 8:00 am to 9:00 am and 4:00 pm – 6:00 pm.
Extended care costs: $60.00 per week ($20.00 for the AM and $40.00 for the PM).
Extended hours must be paid for at the time of registration.
Clay projects will be fired within 11/2 to two weeks and you will be contacted to arrange pick up of the finished pieces.
Please click HERE to download registration form.
Acceptable modes of payment include cheques and cash.
Call 905-420-2667 for more information.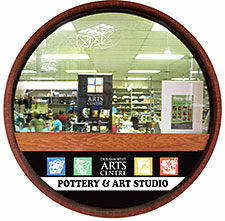 Pickering Recreation Centre
1867 Valley Farm Road,
Pickering, Ontario L1V 1Y7
mapquest
Telephone: 905.420.2667
Mail: P.O. Box 667,
Pickering, ON L1V 3T3
Classes
At the Centre
Durham West Arts Centre is proud to announce our new location and move to the Pickering Potters Studio in the downtown Recreation Complex. This exciting new venture allows DWAC the opportunity to teach, interact and engage the public through dynamic programming. In addition to continuing with the well-established pottery programs, we plan to offer a diverse range of visual arts programming from the studio location.
It will also be the home and office of DWAC, providing us with a central hub from which to continue to build and promote the idea of creating a permanent home for the arts centre here in Pickering.
---
Who or What is DWAC?
The Durham West Arts Centre is a 'hub' organization working to establish links with artists, arts groups and arts lovers. We want to meet and talk to the groups and individuals who are willing to help build the infrastructure for a permanent arts centre in Pickering.
Who or What is DWAC Foundation?
Our mandate is to organize, plan, design, fund, contract for, and build a performing and visual arts centre in the western part of the Durham Region, for the benefit of the citizens and arts community in the Durham Region.
The Vision
The arts centre is envisioned to include performing, media, visual arts and multi-purpose spaces serving local and regional audiences and artists, and featuring local, regional, national and international talents.
---