THIS WEEKEND! For more information on our 2014 Studio Tour, click here

---
Spring Seniors Pottery Workshops
Welcome in Spring by crafting unique pottery creations in a series of hand-building workshops for Seniors. Taught by instructor Deborah Johnson each workshop will show you how to create a colourful flower bowl and a beautiful coffee mug with step-by-step, easy to follow instructions. Day one is the actual making with clay and day two is the final glazing. Workshops take place on Monday afternoons from 1:00 - 3:00 pm at our studio location in the Pickering Recreation Complex.
Dates are March 17 and 31 and April 14 and 28.
Call 905-420-2667 to register.
---
Register now for new Figure Drawing Course at the Durham West Arts Centre's Pickering Studio
DWAC will be offering a new art class with award-winning Ajax-based artist Albert Slark starting this Winter. "Drawing the Figure from Life: A Classical Approach to Figure Drawing" is a six-week course consisting of three hours of weekly guided instruction in classical figure drawing. Discover the human form through observation and drawing, through varied poses with professional life models. The course is offered to all levels, from beginner to advanced. Perfect for student portfolio development as well as studies for portraiture, illustration and other fields. Students are responsible for the purchase of their own materials.
Dates: February 16 – March 23, 2014
Times: Sunday sessions – 11:00 am – 2:00 pm
Cost: $140.00
For more information and to register call 905-420-2667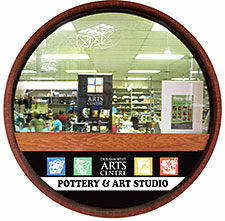 Pickering Recreation Centre
1867 Valley Farm Road,
Pickering, Ontario L1V 1Y7
mapquest
Telephone: 905.420.2667
Mail: P.O. Box 667,
Pickering, ON L1V 3T3
Classes
At the Centre
Durham West Arts Centre is proud to announce our new location and move to the Pickering Potters Studio in the downtown Recreation Complex. This exciting new venture allows DWAC the opportunity to teach, interact and engage the public through dynamic programming. In addition to continuing with the well-established pottery programs, we plan to offer a diverse range of visual arts programming from the studio location.
It will also be the home and office of DWAC, providing us with a central hub from which to continue to build and promote the idea of creating a permanent home for the arts centre here in Pickering.
---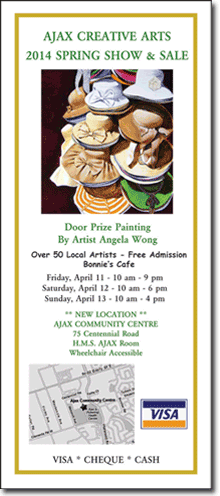 There was an error in the ad for Ajax Creative Arts in the Durham West Studio Tour brochure.
Please note that their Spring Show and Sale is from April 11th until the 13th not 25-27th and the location the HMS AJAX Room, Ajax Community Centre 75 Centennial Road, which is west of the hospital between Bayly and Clements, not at Sherwood Drive.
VISA, cheque or cash are accepted.
---
Who or What is DWAC?
The Durham West Arts Centre is a 'hub' organization working to establish links with artists, arts groups and arts lovers. We want to meet and talk to the groups and individuals who are willing to help build the infrastructure for a permanent arts centre in Pickering.
Who or What is DWAC Foundation?
Our mandate is to organize, plan, design, fund, contract for, and build a performing and visual arts centre in the western part of the Durham Region, for the benefit of the citizens and arts community in the Durham Region.
The Vision
The arts centre is envisioned to include performing, media, visual arts and multi-purpose spaces serving local and regional audiences and artists, and featuring local, regional, national and international talents.