Durham Art of Transition Creative Awards
The Durham Art of Transition Creative Awards recognize individuals and businesses that are making Durham Region's community stronger by celebrating and promoting creativity, innovation and collaboration.
An independent judging panel of community leaders reviewed 34 nominations and selected the following award recipients, based on the impact of the contribution, as well as factors such as uniqueness, effectiveness, influence, and sustainability. 
Award designer Edward Falkenberg with the winners of the Best collaboration between business, the arts and community organizers (left to right) Fly Freeman, Shelley MacBeth and Lynn Bishop.This award promotes co-operation and collaboration between independent artists and traditional business owners. The winner of this award is The 25 of 25 street pARTy (a collaboration of Uxbridge Studio Tour artists and the Uxbridge Celebration of the Arts committee).
The Uxbridge Celebration of the Arts is an annual arts and culture festival that takes place in the Township of Uxbridge. In recognition of the festival's 25th anniversary, organizers planned a large street party featuring 25 art-themed events on Nov. 25, in conjunction with Culture Days. The event fostered new relationships between businesses in downtown Uxbridge and the arts community, as local artists were teamed up with businesses to produce unique, interactive art-themed events. More than 1,200 people attended the event and more artist events have taken place in businesses in Uxbridge since the event took place in 2010.
http://www.artoftransition.ca/the-25-on-25-street-party-winner-of-best-collaboration-between-business-the-arts-and-community/
Art of Transition Award Designer Edward Falkenberg with Jeremy Smith, Artistic Director and General Manager of The Driftwood Theatre Group's Bard's Bus Tour. The Driftwood Group won for Best entertainment in any medium. This award is presented to a form of entertainment, which does not have to relate to the Region of Durham in any way, but must be conceived and developed by a resident of Durham Region. 
The Driftwood Theatre Group started more than 16 years ago as a small, Durham-based company and has since grown into a province-wide, professional theatre production group. The Bard's Bus Tour is the Driftwood Theatre Group's flagship work, as they host summer productions of Shakespeare works in more than 25 different communities across Ontario for pay-what-you-can admission. Thus, providing accessible, professional theatre for everyone. Driftwood Theatre Group remains true to its Durham roots by hosting 25 per cent of its performances within the Region, and remains an important piece of Durham's cultural community.
 Best use of art and artists to advance social and environmental sustainability
This award recognizes any creative designed to advance social and environmental sustainability in Durham Region. The winner of this award is The Reflection Park, accepted by Bonnie Thomson and Marg Snider-McGrath.
The Reflection Park, Port Perry's first public art project, was a collaborative endeavour that combined the ideas, energy and talent of the Township of Scugog's youth and community supporters to encourage citizenship, volunteering and the preservation of green space. The Reflection Park transformed an unused green space in Port Perry into an inspirational garden, which is a public area for residents and tourists to enjoy. The Reflection Park is comprised of a stone mosaic created by more than 2,000 elementary students, landscaping designed by students, and plaques with reflective statements (written by students) to promote good citizenship. The project has a lasting legacy, as students have been instilled with a sense of ownership and pride, and the space is used as an outdoor classroom for educators in the Township of Scugog.
http://www.artoftransition.ca/the-reflection-park-winner-of-best-use-of-art-and-artists-to-advance-social-and-environmental-sustainability/
Best story about Durham Region in any medium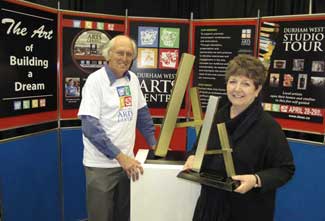 This award is given to an account of an event or series of events inspired by, or dedicated to, Durham Region. The winner of this award is Jane Eccles.
 In fall 2011, Durham Region artist Jane Eccles presented a collection of her work at Whitby's Station Gallery in an exhibition titled Overlap. Overlap highlighted exceptional moments in the lives of women, from Durham Region and beyond, through clothing and life stories in a series of paintings. The stories of these women, told through Overlap, travelled around the world under the leadership of Eccles. In addition to local media coverage, Eccles and her exhibition were featured on the front page of the Toronto Star, as well as on CBC radio programming that was carried in Cantonese to China—a first for a living Canadian artist. Eccles shone a bright light, not only her work and the stories of the women who inspired them, but on Durham Region, showcasing it as a valuable arts and culture hub on a global scale.
http://www.artoftransition.ca/jane-eccles-winner-of-best-story-about-durham-region-in-any-medium/

For more on the Art of Transition Awards click on logo
For the Metroland story and more pictures click the link: http://www.durhamregion.com/news/article/1252823--creative-awards-handed-out-in-oshawa-friday