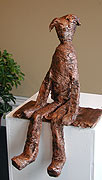 By becoming a member of the Durham West Arts Centre you are helping grow the support for a permanent performing and visual arts centre in west Durham.
Support arts programs in the community such as Enviromonsters, Reading and Remembrance, Expressions: Youth Interpreting Diversity through the Visual Arts and Mystery Masterpiece.
Individual $25

Senior/Student $20

Family $30

Arts Group $35

Corporate Membership please call

Tax receipts issued for donations over $30. Please make your cheques payable to Durham West Arts Centre.
Demonstrate to their customers, employees and to the community that they support the arts, including the vital local arts community

Sponsor popular educational arts programs for children and youth

Sponsor programs, exhibitions and events that highlight the rich diversity in the Ajax-Pickering community such as with Roots and Drums

Broaden their exposure to a broad segment of the Ajax-Pickering and larger community through the DWAC website, publications, media coverage and through wide distribution of their logos through posters, flyers and programs.

---
The Durham West Arts Centre exists to create, manage, and operate a centre for the advancement and promotion of artistic disciplines, and related activities throughout the community, for the benefit of the residents of the Regional Municipality of Durham, and the Province of Ontario.
Durham West Arts Centre