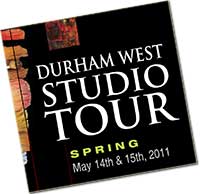 Watch for details here on our exciting May 14 and 15, 2011 Spring Studio Tour
Durham West Arts Centre is grateful for all of the support from our volunteers, members and corporate partners, including ongoing support from Boston Pizza, Veridian Connections, the City of Pickering and the Ontario Trillium Foundation.
---
Spring into art by taking a studio tour
Opportunity to meet artists, watch them work, buy directly
Art lovers and the curious can watch the creative process unfold before their eyes in their own backyard.
There's no need to travel to an urban centre to see the work of world-class artists. If you look closely enough, there are high-calibre artists residing right in your own community. Once or twice a year, local artisans throw open their doors and welcome the public into their homes or studios.
Studio tours are a unique, one-of-a-kind opportunity to meet local artists, watch them at work and learn more about what inspires them to put brush to palette or chisel to stone. From painters to potters to sculptors to jewellers, studio tours often encompass a diverse group of artists. While at their studio or home, visitors have the chance to engage with artists on a more intimate level, ask questions about their pieces and build a rapport in a relaxed environment.
It's a peak behind the scenes that breaks down both the mystique of artists and the creative process. Visitors not only see the work but can discuss the inspiration and stories behind the pieces, which can sometimes be as interesting as the creations themselves.
Studio tours, which are free, provide an opportunity to purchase directly from the artist and in many instances, you get more value for your money. Connecting and building a relationship also offers the opportunity to continue to buy from the artist in years to come or to commission a special piece.
While getting to know the artists in their own environment, visitors also develop a better sense of community. Studio tours often wind their way through the city and the rural outskirts of the region and the self-guided adventure from studio to studio can be picturesque on its own.
For instance, in Pickering, there are a pocket of artists living on federally-owned lands, which are designated as environmentally-sensitive and the nature preserves provide a means of inspiration for some artists. Studio tours can also be engaging and interactive with some artisans featuring their pieces, such as sculptures, strategically on their property.
Durham Region has a strong concentration of high-calibre artists who sell and are in galleries from Prince Edward County to Niagara-on-Lake. Support your local artists.
As the warmer weather arrives, keep an eye out for upcoming studio tours in your community.
~ Andrew Hamilton is the executive director and curator at Durham West Arts Centre. He is also an accomplished landscape painter and fine arts professor. Andrew apprenticed with acclaimed landscape painter Doris McCarthy and is a Canadian drawing master.
---
Allan O'Marra
23 Plumridge Ct., Ajax, L1S3Z8
www.allanomarra.com

Alpheus Jones
849 Sanok Drive, Pickering

Guest Artist: Gerri Proulx

Barbara Thompson Hoover
3880 4th Con.,Goodwood,ON

Guest Artist: Patricia Robinson

Guest Artist: Ian White
www.whitepixels.ca

Deanna Jones
2530 Concession 6, Greenwood, L0H 1H0

Gayle Temple
5097 Old Brock Rd., Claremont, L1Y 1B6

Geordie Lishman

Gordon Reidt
1744 Finch Av., Pickering, L1V 1K4

Robert Parsons

Hanneke Koonstra
512 Albright Rd., RR #4, Uxbridge, L9P 1R4
www.hannekekoonstrafineart.com

Guest Artist: Linda Harris

Joanne de Boehmler
721 Craighurst Ct., Pickering, L1X 2X1
www.artistic-expression.com

Judith Matthews
2010 Trailwood Crt., Pickering, L1X 1T5

Kirsty Naray
Kirst Naray Glass Arts,
45 Wickens Cr., Ajax, L1T3M7
www.kirstynarayglassarts.com

Lois Lenarduzzi
20 Shepherd Rd., Brooklin, L1M 1G8
www.loislenarduzzi.com

Guest Artist: Audrey Morgan
www.littlemagpie.ca

Guest Artist: Mariann Dunsmore
www.marianndunsmore.com

Martha Brown
834 Naroch Blvd, Pickering
www.bluemoonfabricarts.com

Ronald Peter
1680 Scugog St (Hwy 7A), Port Perry

Yvonne Meissner
4465 Westney Rd., Claremont
www.ymeissner