2014 Durham West Studio Tour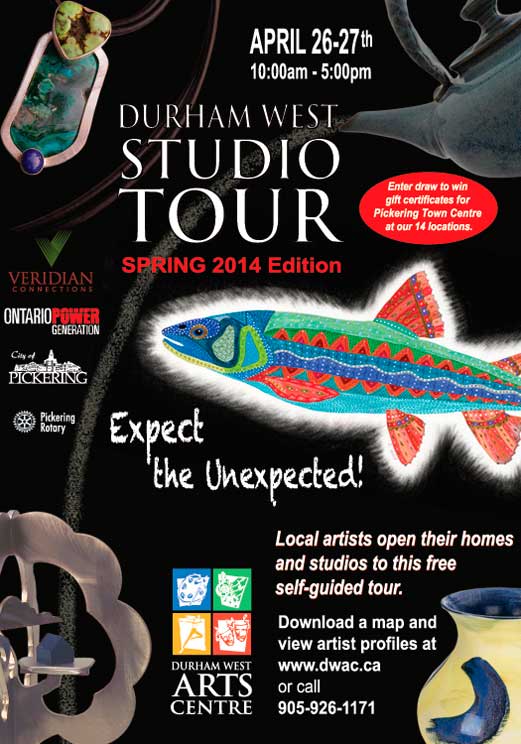 Download and print Studio Tour Map!
click to See 2014 brochure and samples of tour artwork
(large file, please be patient)
This year's Durham West Arts Centre (DWAC) 2014 Studio Tour is bigger and better with an expanded roster of 29 artists, and a greater variety of work for sale. The tour takes place Saturday April 26 and Sunday April 27, from 10.00am to 5.00pm.
A remarkable aspect of the DWST is that it offers a unique opportunity to visit the homes and studios of artists living in-town as well those who occupy living and working spaces in the country. Visitors can enjoy a behind–the-scenes view of making art and share the ambiance of a creative space.
Click on the pdf link to see and print a map and view the artist pdf and the websites to help you oreate a route that reflects your own tastes. Take a rich visual journey through the countryside OR visit some of the in-town artists. Everything from the magnificent wood carved sculpture of renowned artist Dorsey James to the inspired jewellery creations of guest artist Jeanette Bartosik, will be on display.
Discover great art and great locations in the country - Christl Niemuller, Edward Falkenberg, Gayle Temple, Hanneke Koonstra and Kim Lowes are further out if you are coming from the south so give yourself a little more time. This is a great way to discover the hamlets of Claremont, Greenwood and Goodwood. While in Goodwood plan on lunch or a dessert at Annina's then enjoy the rest of your tour.
In addition to touring artist's studios, we are pleased to feature Cheryl Rock at Cultural Expressions in Pickering Village at 62 Old Kingston Rd. Cheryl along with gallery curator, Esther Forde are helping to shine a light on the creative talent of artists from the African and Caribbean Diaspora, and we are excited to showcase Cheryl's unique talents as part of this year's tour.
The Durham West Arts Centre Pottery Studio at the Pickering Recreation Centre will have seven artists taking part showing everything from ceramic art to painting and fused glass artwork. Many talented new guest artists will make this a stellar year – "Expect the Unexpected!"
Returning artists:
Iwona Dufaj, Jeannine Rosenberg (Guest at Iwona Dufaj's), Judith Matthews, Clay James (Guest at Dorsey James), Edward Falkenberg, Geordie Lishman, Yvonne Meissner, Christl Niemuller, Kim Lowes, Mike and Betty McGowan (Pottery Studio), Hanneke Koonstra, Deanna Jones, Lianne Snow (Guest at Geordie Lishman's), sisters Guida Pirita and Ana-Paula Leandro along with Debbie Dell at the Pottery Studio.
New Artists on tour:
Francis Muscat (Guest with Iwona Dufaj), Jeanette Bartosik (guest at Judith Matthews'), Wendy Bermingham, Dorsey James, Gayle Temple, Sarah Porter and Cynthia Cupples (Guests at Gayle Temple's), Cheryl Rock (Cultural Expressions), Caitlin Sabean (Guest at Geordie Lishman's), Annabelle Murray (Guest at Kim Lowes), Sue Slocum and Helal Sarker (both at the Pottery Studio).
The event is free and if you need more information contact Steven Frank at
905-926-1171 or sjfrank23@yahoo.ca
2014 Participating Artists
Jeanette Bartosik ~ (guest at Judith Matthews) www.jeanetteka.com
Wendy Bermingham ~ www.wendyberminghamart.ca
Cynthia Cupples ~ (Guest at Gayle Temple's) www.cynthiacupples.com
Debbie Dell ~ (DWAC Pottery Studio) www.fusedglasscustomhardware.ca
Iwona Dufaj ~ www.iwonadufaj.com
Edward Falkenberg ~ www.falkenberg.ca
Clay James ~ (guest at Dorsey James) scrimshawbyclay.tumblr.com/
Dorsey James ~ www.novacan.ca/djames
Deanna Jones ~ deanna-jones-art.tumblr.com
Hanneke Koonstra ~ www.hannekekoonstrafineart.com
Geordie Lishman ~ geordielishman.com
Kim Lowes ~ www.kimlowes.ca
Judith Matthews ~ www.judithmatthewsartist.com
Betty McGowan ~ (DWAC Pottery Studio) www.mcgowanart.com
Mike McGowan ~ (DWAC Pottery Studio) www.mcgowanart.com
Yvonne Meissner ~ www.yvonnemariemeissner.com
Annabelle Murray (Guest at Kim Lowes) annabellejanemurray.com
Francis Muscat ~ www.francismuscat.ca
Christl Niemuller ~ christlniemuller.com
Cheryl Rock (Cultural Expressions) www.cherylrock.com
Jeannie Rosenberg ~ (Guest with Iwona Dufaj) www.facebook.com/Rosenbeads
Caitlin Sabean (Guest at Geordie Lishman's) ~ caitlinsabean.foliohd.com
Helal Sarker (Pottery Studio) ~ www.helalstudio.com
Sue Slocum (DWAC Pottery Studio) ~ sueslocum.weebly.com
Lianne Snow ~ (Guest at Geordie Lishman's) www.creativerecyclingworks.com
Gayle Temple ~
---
---
---