2019 Studio Tour April 27 & 28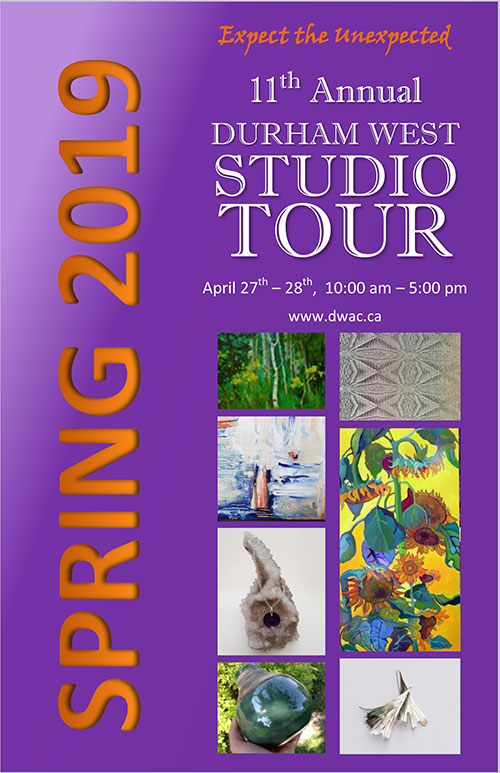 Dr. Nelson F Tomlinson Community Centre
4941 Old Brock Road, Claremont, North Pickering
My photography focuses primarily on nature and landscapes, though I have ventured into the world of abstraction, architecture, portraiture, and street photography. To me photography is the art of communicating the feeling and object or scene invokes for me, deliberately. It's about finding beautiful things in ordinary places. My photography has very little to do with what I see and everything to do with how I see them as well as how they make me feel. Call me a photographic impressionist, if you will. I want people to look at my photos and sense the experience I had when making it.
Lately, my focus has been on pursuing the art of photographic abstractions, using lighting, motion and strong vertical elements to create the "God Light", "Wooden Movements", "Golden Path", "Shift to Shiver, Boreal Paths", and "Spirit of the Spruce" series of photographs. Joining the recently formed "A Place for the Arts", artist's co-op in Bancroft has allowed me to show many of my works in a beautiful creative space where other artists share their works and ideas.
Many of my photos have been featured in magazine articles, websites, and church bulletin covers. I'm also a prolific blogger, sharing my images and the thoughts and process that are involved in my art on a daily basis.
My intent, through blogging is to share my photographs with a broader audience and be able to share, in words, some of my thoughts about the experience that goes along with actual photo.
Elsa Brittin graduated from NSCAD University with a BFA Ceramics. Her previous exhibitions include her solo show Denouement at the Anna Leonowens Gallery in Halifax, NS, a group ceramics show Squeeze/Burst at the Craig Gallery in Dartmouth, NS, and Liquids Creams and Gels at the Gynocratic Art Gallery hosted online.
Elsa Brittin, through dynamic lines and form, explores the relationship between function and sculpture. Her love of plants and natural forms influence both her colour palette, with greens browns and deep reds juxtaposed against the clean white of porcelain, and types of forms she makes. Brittin's pieces celebrate a captured moment in time where the fragility of clay and the permanence of ceramic making collide to create functional pieces for everyday use.
Heather is considered an urban glass artist, by the style of work she creates. Self-taught and currently has her work in more than 8 countries. Heather continues to explore and learn new styles and techniques to constantly evolve her work. One of her signature styles is her black and white styles in which many of them incorporate a piano keyboard.
A one day workshop changed the direction her art would take. Somehow I knew it fit my "out of the box" thinking.  My vision has always been to create fun and functional pieces of glass using the technique known as fused glass. Working with a kiln I create movement and flow of glass. I have explored using all types of glass, tempered, float and tested glass to create Art pieces, bowls, plates and platters and even jewellery. Working with glass has allowed me to experiment with heat, colour and structure.
Each piece is unique and has a story to tell.
After retiring from Bell Canada in 2000, Jean and her husband Ken moved to the Lindsay area and it was then that she decided to pursue her keen interest in art. She took many courses with local artists, working in watercolour and then began a four-year course with Pauline Bradshaw, aa graduate of the Toronto Academy of Realistic Art. This is how she learned and trained in the classical tradition.
Jean also enjoys painting in watercolour. She paints landscapes, florals, seascapes and local barns. Jean has entered and sold paintings in various shows and her work can be found in private collections locally, across Canada and in the United States.
Libbie Burns is a Columbus, Ontario artist who has studied wet felting with such artists as Marie Barnes in Aurora, Maureen Harding in Brighton, Fay Wilkinson at the Canadian Textile Museum, Barbara Poole from Boston, Marjolein Dallinga from Quebec, and Dr. Liz Clay from the UK.
Moving from tapestry frame weaving and spinning to wet felting has been a natural transition. It is exciting to gather natural fibres such as  merino wool and silk, and combine them using soap, water and agitation by hand into functional fabric. The resulting fabric can be dedicated to 2D or 3D creative textile pieces. Responding to a curiosity to explore and expand techniques taught to me by a number of talented artists allows me to adapt the historical wet felting process to incorporate a more modern and complex approach to my work.
Margaret is a local Stouffville "plein air" artist working primarily in watercolour, but also in acrylics and printmaking. Attracted to colour and the play of light and shadow, her delicate style is well suited to the landscapes that form her subject matter. Margaret and her husband have travelled extensively across Canada as well as Italy, Scotland, Ireland and England and these painting scenes become the 'postcards' of their travels.
She has participated in many group shows at the Latcham Gallery, Markham Theatre and has been a member of the Stouffville Studio Tour since 2002.
Margaret was educated at the University of Windsor and has a B.A. with a major in Fine Arts and Child Psychology.
She was an educator with a Montessori School, the YRDSB and the YCDSB.

I'd learned about encaustic in school studying the Fayum portraits and taken extensive courses with Andrea Bird at The Alton Visual Arts Centre, Susan Fisher at Haliburton School of the Arts, and Cynthia Winika and Lisa Pressman at R&F Encaustics in New York. I show regularly at The Colborne Art Gallery and Lake Scugog Studio Tour.
My paintings are in encaustic (beeswax and damar resin) on birch panels. I'm inspired by the whimsical colour combinations and strong lines I see in both urban and rural landscapes. These inspirations may lead to representational or abstract work. In my work the viewer gets drawn into layers of luminous colours and rich textures.
From a very early age Monica Gennaro was fascinated with jewellery. However, it was only in 2007 that she turned to jewellery making by using beads and wire. Soon realizing that this limited her, Monica enrolled in the three year George Brown College Jewellery Arts Program, one of North America's largest and best equipped jewellery programs, where she earned the Certificate of Jeweller.
The inspiration for Monica's jewellery comes from the natural beauty that has surrounded her for the past 12 years: the patterns on tree bark, the shapes of flower petals and leaves. These elements are incorporated in a number of her original handcrafted art-jewellery creations. All of her beautiful and diverse pieces are handmade solely by her in her Stouffville, Ontario studio. Monica works mainly in sterling silver and gold using traditional methods of jewellery making: sawing, annealing, forging, soldering, and piercing. In most of her exquisitely made pieces, she incorporates precious and semi-precious stones in a bezel setting.
Monica's unique collections include an eclectic and broad selection of styles from stylized geometric shapes to nature inspired lines and forms. True pride and workmanship is evident in the high quality of each Beke creation. Every finished piece is a true work of art.
My interest in textiles started with the Feminist Movement in the 70's, where attention was being paid to what was disparagingly called "Women's Work", which was anything to do with textiles - needlepoint, quilting, sewing, knitting. Generally, if a woman did it, it wasn't worth much.
This turned my eye towards these things, and, knowing that one of my Grandmothers was a tailor, and the other a quilter and embroiderer, I wanted to learn about the techniques and skill that went into the textiles that we used day to day. It was about respect for the work and honouring the traditions of making, handed down through the generations.
When my two boys were young, I started a business designing and manufacturing children's clothing, with sizes based on today's healthy children. In addition to a working studio downtown in the Fashion District of Toronto, I had a retail store on the Danforth, also in Toronto, and sold to wholesale clients across Canada.
Not content with what I already knew about clothing construction, I returned to school at Sheridan College in Oakville, Ontario, where I graduated from the Textile Studio in the School of Craft and Design. Two and three dimensional design, surface design and dye chemistry were just some of the fascinating things we studied there, with amazing teachers such as Susan Warner-Keene and Lyn Carter.
After graduation in 2000, I set up a weaving studio in Uxbridge, Ontario where I wove silk scarves, shawls and kimonos on a 16 harness computer driven dobby loom.
Today my studio is home to 3 industrial sewing machines, rolls of natural fibre fabrics, a dye kitchen, lots of print blocks and silk screens, and a variety of eco-friendly dyes.
Weaver with more than 20 years' experience. Studio tour participant since 1993 in Whitby, Uxbridge, Victoria County, Scugog and Durham. Juried shows and exhibitions across Southern Ontario including Toronto, Stratford, Uxbridge, Stouffville and in the US. Featured on Harrowsmith Country Life 1997.
Artist Statement: My work explores the interlacement and manipulation of fine yarns, interesting textures and colour to create contemporary, unique handwoven items. I weave on traditional wooden floor looms, adapting historic patterns to 21st century textile needs, using natural fibres such as wool, silk, and hemp as well as experimenting with copper wire and other non-traditional materials.
Ray is, first and foremost, a painter "en plein air". His style is a product of a long career in graphic design ... a concern for shape and form, eye movement and spatial relationships. His medium of choice is transparent watercolour. Ray likes its brilliance, its immediacy and its transportability. His work has a sense of movement leaning toward an objective abstract approach. Painting with controlled washes, working smoothly with an eye toward the balance of forms and shapes give his work its distinctive character.
He has participated in a number group and juried exhibitions at The Latcham Gallery, solo exhibitions at The Beacher Café in Toronto, The Kent Farndale Gallery in Port Perry.
Ray was educated at the Ontario College of Art and had a 46 year career as a Graphic Design Professional and Creative Director in Toronto. Ray is a strong advocate for the visual arts community in York Region sitting as Board Chair of The Latcham Gallery and the Stouffville Studio Tour.
I've been interested in creative arts my entire life.  My learning process continues to be both formal and experiential. My artistic journey will never be "finished" as I evolve and hone my skills.
For 12 years I've been in juried shows including Durham West, Georgina, Uxbridge and Stouffville Studio Tours, Cobourg Dockside Festival, plus an annual open studio event.
I began creating jewellery in 2005, adding kiln-fused glass in 2007.  My evolution as an artist has always been focused with a desire to know more, become more, to make the transition from craft to art.
I've discovered that my strength is in combining techniques and media to create completely unique, wearable "jewellery art", and doing the same in the kiln to form "functional artglass" pieces.
Organic fluidity is what inspires me the most: creating a piece of glass with colours that move and flow like a river; or designing a necklace with swirling chainmail "scales" of silver.
Artist Studio:   Hosts & Guests
I have B.A. in Anthropology and Archaeology and the functional art throughout history informs my work. I have been part of several group exhibitions at the Rail's End Gallery in Haliburton and exhibited at One of a Kind and the Toronto Outdoor Art Exhibition, as well as taking part in many studio tours in York and Durham Regions.
My silversmithing takes me into many design adventures with my hand-forged jewelry.  My work is rustic - using silver, gold and bronze and a mix of gemstones to create wearable art.  I often pay homage to ancient bronze age metalsmiths, adding my own modern take to the work of the past.  Recently I have created a series of "Unearthed" pieces for men and women – rings, cuffs and necklaces that look as if they could have been recently excavated from an archaeological site.
Audrey Morgan was born in Ajax, currently lives in Pickering Village and considers Uxbridge the 'hills of home'. Her Dad had land in Uxbridge and, as a kid, she'd picnic in the woods with her family. "Dad built many homes in Uxbridge, eventually becoming neighbours with Francis Muscat".
A lifelong wish to work with silver was fulfilled when Audrey finally embarked on her own course of study with some terrific people: Beverly Smith in Collingwood, Anne Grotrian @ George Brown College, Ruth Rodgers, Sandra Noble Goss, Liz Simpson, Catherine Crowe and Megan Jones & David Swinson of Kensington Silver Studio.
Audrey is very grateful to META4 Craft Gallery in Port Perry. "Jen, Bonnie and Birgitta have given me a venue to sell my work, room to grow as an artist and an opportunity to fulfill a natural inclination as a teacher".
Audrey is inspired by the genius of nature. She's moved by heart-felt, uninhibited creative expression – whether communicated in the visual arts, fine craft, music, film, writing….or cooking a kick-ass dinner! She is thrilled when something she can offer connects with something in another. "Boil it down and I create to forge connections".
I'm in awe of the natural world....its colours, patterns, textures -- even its flaws. My work strives to convey the beauty I see in nature.
Bob was born in London, England and found his love for painting at an early age. He was accepted into the presti­gious Hornsy Art College. Instead of a full art career, with his amazing eye for design & space, Bob chose to express his art by starting a design & renovation business. Bob has gathered a solid repu­tation as client after client wanted to see Bob's personal expression of what their home could become. He never stopped painting though. It has always been his love and solace.
'This is my dream come true!' The moment Bob set eyes on the barn, he had a vision of what it could become – the Gallery is the realization of that dream. The transformation from a horse & chicken barn to the art gallery has been an exciting journey. Arduous but exciting! Step by step, his vision became reality. Keeping & restoring all the stables seemed like a fun and creative way to display his art. The juxtaposition between an aged barn and abstract art is such a unique and perfect way to show his work. Along with his paintings, Bob is happy to dis­play his newest love, woodworking. Live edge table tops, bowls and other objects of interest can all be found here. You never know what you may find to enhance your living space!
I'm a Toronto native with a varied background in the fine arts. I spent the academic part of my artistic career at the Ontario College of Art, where I graduated in design, and the University of Guelph, where I obtained a Bachelors Degree majoring in Fine Art. As well as ceramics, my early work was in metal, where I worked as a sculptor and on commissioned pieces with Ted Bieler.
I have returned to traditional wheel thrown ceramics, drawn to the technical discipline, creativity and stillness the work entails. I enjoy the potential of marrying commodity with delight and the tactile pleasure of drawing, tooling and working with clay and unpredictable glazes. My style reflects an admiration for Canadian potters Robin Hopper and Kayo O'Young, as well as Navajo artist Maria Martinez.
Cheryl Fulcher's jewelry is art in metal.  Growing up with the influence of invention and attention to detail, she has brought a flow and balance to her chain link necklaces and bracelets.  Starting from various gauges of sterling silver, she hand winds wire into links making timeless classics and original designs.  Her earrings are complimented by semi-precious stones.  After being a perpetual night-class student in Jewelry Arts at George Brown College for 16 years, Cheryl has now set up her own studio.
I am a self-taught artist allowing my imagination to express the world around me and inspired by my travels and my garden. I am influenced by colour, texture and shapes and like to work in various media including oils, watercolour, mixed media and encaustic, painting and layering until images begin to emerge. Often I don't know what will appear. Perhaps, an abstract painting of knights on horseback from a long ago morning spent playing with my grandsons or a sunset landscape recalling a joyous hike. I paint because I love to, with every blank canvas a new journey into the unknown.
Colin began drawing and sketching at a young age and never lost the excitement of representing what he saw with a pencil. He then explored paint, pastels, and many other materials. Self taught initially, he spent 10 years at OCAD developing his skills. Colin taught high school art for 30 plus years as well as religion and philosophy. After retirement he turned to painting full time and has shown his work in Stouffville, Port Perry, and Niagara. He has been a member of the WSST and DWST for several years.
"Art history and theory has been a lifetime passion of mine. After years of exploring a wide variety of styles I am presently interested in more imaginative and abstractly interpretive subject matter. As acrylics are my primary medium I have experimented more and more with textured surfaces using a variety of mediums. Collage is often added to my works. Colour defines my work primarily as I use bold colours to create a visually and emotionally strong impact. More and more, total abstraction is becoming a defining principle of approach to a variety of surface structures. Again, theory as it aids developing a concept is important."
In 1970, Ed began his exploration of clay, sculpture and pottery as an elementary school teacher in Scarborough. From 1973 to 1998, he taught pottery at Scarborough summer art camps for students and adults. Between 1970 and 2014, Ed did extensive exploration of Raku firing techniques. After he retired in 2001, he became a member of Aurora Potter's Guild. From 2001 to 2015, Ed taught sculpture and Raku firing to members of Aurora Guild and taught adult sculpture and pottery classes at Cedar Ridge Creative Centre. Ed also organized and supervised "Rakudu" Day events at Cedar Ridge Creative Centre and at Don Mills Collegiate for 19 years. He has exhibited at Pine Tree Potters' (Aurora), the Beyond the Craft show in Stouffville for 5 years and as a member of the Stouffville Studio Tour for 10 years. From 2013 to 2015, he also demonstrated and supervised Raku firings at the Gardiner Museum of Ceramics Arts (Toronto) twice annually.
I am a self-taught glass artist and business graduate from York University. I find glass incredibly beautiful. I'm fascinated with how glass interacts with light and how it captures the light's living energy. It is constantly changing as the light changes around it. I started with tumbled glass, then coloured and stained glass, and now kiln fired. Some of my pieces are whimsical and bursting with colour and others are very calm, clear and structured. I'm highly influenced by nature, the changing seasons and my own environment. As I continue to learn, I continue to evolve and so does my work. Much of my inspiration comes from not knowing what I may be creating next, and the prospect of what can be created. The possibilities are endless.
"I began working with glass by recycling broken pieces of it once it was tumbled. My first projects were small: pendants, bookmarks, candle holders. Soon I was producing larger pieces, everything from full scale light fixtures to vases. I continue to create these pieces and I have expanded my work to include kiln formed glass. I am intrigued with the results of using warm glass, in particular the freedom of expression with shape, colour and texture."
Born in the Netherlands. Went to U of Toronto and earned a BSc and BEd. Taught Special Education and Art. After taking a medical leave was able to concentrate on her art by taking many work shops and joining several art groups including the Uxbridge Studio Tour. Durham West Studio Tour , the Oshawa Art Association and the Schoolhouse Painters in Lemonville. Her work as been accepted in many jurried shows and has won awards.
Many of my paintings are inspired by living on my rural property in the Oak Ridges Moraine. I paint mainly in watercolours, liking their transparency. I am also drawn to bright colours . I enjoy painting flowers from my garden, birds that are attracted to my feeders and scenes from my camping trips. My paintings are also inspired by my frequent trips to Europe. Recently I am experimenting with oil and acrylic paints both in representational and abstract paintings.
Marina is a graduate from the University of Guelph where she majored in Studio Art.  She is an avid traveler and continually finds herself being inspired by so many places. Her oil paintings reference the wanderlust that is so consistent with those from her generation.
Marina also has an ongoing pet portrait business. Having grown up with so many animals, she strives to draw the likeness of every pet. She has delivered pet portraits around the globe and continues to expand her client base.
Patricia has been painting for over 20 years studying fine art at the University of Guelph, Emily Carr and Ontario College of Art and Design and Dundas Valley School of Art. She has exhibited in group shows in B.C. and Ontario including the Milton Studio Tour (2007‐2013), Artists in the Country Show (Flamborough) and Hamilton Conservatory for the Arts (2009). Lynes' painterly landscapes and figures convey an impression of place or a moment in time by emphasizing the physical beauty of form, colour and light. Paintings are windows open to life and memory. Like landscape, they provide solace and inspiration. Patricia prefers plein air and low light painting, working primarily in oils. She also works in acrylic. Her paintings strive to encompass in gesture the altering states of the natural world especially through the changing light of the seasons. Residing in both Claremont and Carlisle, she strives to capture the changing character of local landscape.
My goal is to create sculptures that tell a story or capture a moment that others can relate to.  My inspiration comes from a love of nature and a passion for gardening.  I enjoy working with natural materials and begin the process with a wire armature that is built up using fabric strips impregnated with an environmentally friendly hardener that solidifies the sculpture making it impervious to the weather.  It is the ultimate in upcycling, created to enjoy and use as a complement to the natural elements of your garden.  My favorite materials to use are moss, bark, burlap and cotton. 
Wendy Bermingham graduated from the Ontario College of Art and Design in 1985. With a major in Communication and Design, Wendy enjoyed a very successful career as a graphic designer for many years but after spending time getting back to her roots in nature, she discovered that fine art was her true calling.  Primarily self –taught, she now paints full time in her studio or outside on location, and has never looked back. Painting exclusively in oil and using both brush and palette knife, Wendy captures the texture, light and movement of the Canadian landscape.
Wendy is an elected member of the Ontario Society of Artists and the Society of Canadian Artists, and a member of the East Central Ontario Art Association.
I've had a connection with forests and trees that goes back to my childhood.  But now, as an artist, it's the abstract design and the light that I'm attracted to. I love the lines and textures of curved branches or the tangled underbrush followed by the inner light of the forest and that is what draws me in. I paint in oils because I love the thick oily texture as well as it's slow drying qualities.  I like to experiment and play with the paint to create thick textural abstract shapes that I can manipulate with brush and palette knife into my version of what I see. I'm willing to let new things emerge and direct how my painting will look in the end. This is when I feel most at home as an artist.
Yvonne was born and raised in St. John's Newfoundland, and is now residing in Claremont. Since taking up residency in Ontario in 1966 she has maintained close emotional ties with her family and friends back home. Painting has always been her passion. In 1995 Yvonne decided to pursue formal artistic training at the Ontario College of Art and Design and she became a graduate in 1998. Yvonne has participated in many solo, group and juried shows since graduation.
"I am intrigued by events that occur in leaves, twigs, snow and ice, as a result of seasonal changes. These images from nature represent for me visual symbols of the continuous change in all life forms. I work on canvas and wood. I am particularly interested in the tactile qualities resulting from painting and layering with mixed media. This process results in low relief abstract forms."
2019 Organizing Committee:
Gordon Reidt Artist reidtathome@sympatico.ca
Colin Whitebread Artist colinwhitebread@gmail.com
David Green DWAC dr.green@sympatico.ca
---
2018 Tour and Artists | 2017 Tour and Artists | 2016 TOUR AND ARTISTS | 2015 Tour and Artists




Claremont Lions



Pickering Rotary Ribfest